Tax Relief for Truckers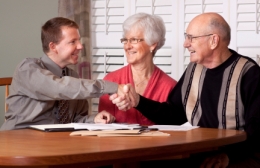 Truckers have it hard when it comes to tax filing. Not only do most truck drivers get paid as 1099 contractors, they also spend a lot of time away from home, making it difficult to keep track of paperwork and ensure returns are filed on time. Add in the fact that many truck drivers end up needing to file tax returns in multiple states, and you have a recipe for tax problems just waiting to happen!
If you're a trucker and you're in need of tax debt relief, you're in the right place. Taxation Solutions, Inc. has more than 40 years of experience helping all types of taxpayers resolve their tax problems, and we have the specialized knowledge to provide tax relief services for your specific tax issues. When it comes to IRS tax relief for truckers, we have you covered.
Our team can assist you with:
Late tax filing
Unpaid taxes
Filing returns in multiple states
Correcting tax returns
Tax settlements
Tax fines and penalties
And more!
We can even provide you with the information necessary to help avoid future tax problems down the road. At Taxation Solutions, Inc., we are your one-stop shop when you need a tax relief company in Louisville.
Professional Tax Relief Services
When you're in hot water with the IRS, you need professional help. Now is not the time to try to go it alone for IRS tax debt relief. That's because, at Taxation Solutions, Inc., we know the system inside and out. We understand how different types of tax problems develop for truckers, and we know the best way to help you secure tax relief from the IRS. Our goal is always to help you return to IRS compliance with minimum hassle and minimum impact on your finances.
Having tax problems can be a major burden, especially when you're out on the road day after day. Come home to IRS tax relief with a little help from Taxation Solutions, Inc.! Serving truckers in Louisville, whether you're just passing through or you call Kentucky home, we are standing by to be your professional tax relief company. Let us help you get started on IRS tax relief today.
tax relief
truck driver tax help