IRS Back Taxes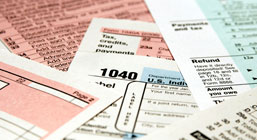 If you owe back taxes, you need professional tax help, and you need it now. When you don't deal with a back tax debt promptly, it can easily spiral out of control. The tax authorities impose penalties and interest on delinquent taxes, meaning the bottom line of how much you owe will only grow and grow. Soon, the total debt balance could be more than you'll ever able to repay.
The good news is that you don't have to deal with your IRS back taxes alone. Taxation Solutions, Inc. is standing by to provide you with professional tax assistance. Serving Louisville and beyond, we'll help you file back taxes, negotiate settlements, and generally provide the help you need to move forward. We're a licensed and insured back taxes help specialist, aiding both individual and business taxpayers when it comes to paying and filing back taxes. Contact us today to learn more about what our professionals can do for you!
When you need tax help, you're looking for a specialist who can guide you through the whole process. At Taxation Solutions, Inc., we offer a full spectrum of tax assistance solutions to resolve your back tax situation, including:
Filing late tax returns
Correcting misfiled returns
Negotiating tax settlements
Securing penalty abatement
Solving payroll tax problems
We'll even provide advice and guidance to help you avoid IRS back taxes in the future! We provide knowledgeable and skilled tax help, putting our 40 years of experience to work for you. Taxation Solutions, Inc. is licensed and insured, and with our ample experience tackling late tax returns and other back tax problems, you can count on us for superior tax assistance in and around Louisville. Our clients trust us to provide them with effective solutions to even the toughest back taxes problems.
Emergency Tax Assistance

When you need help with delinquent taxes in a hurry, Taxation Solutions, Inc. is the company to call. Whether you're up against a pressing IRS deadline or you're just ready to finally get help with back taxes, we're pleased to offer emergency services to clients with severe problems related to unfiled tax returns and unpaid taxes. We'll work efficiently to give you fast results. We want our tax help to get you back on the path to a strong financial foundation ASAP.
We offer free estimates for our back taxes help services. That means you can call us today to discuss your needs and learn how our expert assistance will fit into your budget. We're confident that you'll find our workmanship to be of the highest caliber and our customer service to be top notch. Whether you have unfiled tax returns or you owe years in unpaid taxes, interest, and penalties, Taxation Solutions, Inc. is available to help. Contact us now to schedule your initial consultation! We are your answer for ending back taxes in Louisville.
Back Taxes
Filing Back Taxes
IRS Representation
Back Tax Return
Owe Back Taxes