IRS Audits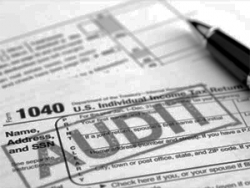 Have you received notice of an impending audit by the IRS? Instead of spiraling into panic right away, let our qualified tax professionals provide you with expert IRS audit guidance and peace of mind. Don't worry about what could happen at your upcoming audit from the IRS; let the pros at Taxation Solutions, Inc. deliver the audit defense you deserve!
Our enrolled agents and tax professionals offer tax audit assistance to both individuals and business owners in Louisville and the region. Our goal is always to provide you with whatever IRS audit help you need to weather the storm. Rather than sit around worrying about your tax problems, let Taxation Solutions, Inc. bring you the IRS tax audit preparation and representation you need to achieve positive results. Call or e-mail us right away for more information about how we can assist with IRS audits.
Knowledgeable IRS Audit Representation
When it comes to IRS tax audits, the government means business. If you're facing an audit by the IRS, you'll want to do everything you can to defend yourself. This is where Taxation Solutions, Inc. can provide IRS tax audit help. We provide comprehensive IRS audit representation to prepare you for the audit in advance, deal with the audit itself, and secure tax settlements after the fact, if necessary. Our audit defense services include:
Developing a strategy for addressing the audit
Compiling relevant documentation
Representing you during the IRS auditing process
Offering advice on avoiding future tax audits
Depending on how your IRS tax audit turns out, the tax authorities may require you to settle unpaid taxes that have been discovered. In these cases, Taxation Solutions, Inc. can also provide the tax settlement help you need to secure the appropriate tax resolution option. We'll be by your side from the moment you call until your IRS audit penalties are resolved. So why take chances with your financial future by attempting to negotiate for an offer in compromise or some other settlement option on your own? Instead, leave your audit and your tax problems in our experts' hands, and we'll take great care of you.
Experienced Audit Defense Professionals
If an audit by the IRS has you scared, rest assured that you're not alone. When you call the experienced audit defense team at Taxation Solutions, Inc., we put our over 40 years of experience to work handling your needs for assistance during IRS auditing in Louisville. Whether you want help preparing for an audit or you need assistance dealing with IRS audit penalties after one, you can count on us! We are here to tackle your IRS problem with complete professionalism. Call or e-mail us today to speak to an expert regarding IRS tax audit help or to get a free estimate.
tax audit
irs audit
offer in compromise